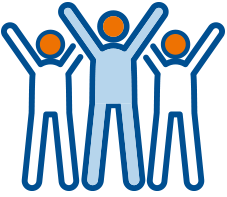 CTC supports the Life Sciences industry in bringing innovative treatments to patients by providing and developing the appropriately qualified and experienced professionals at the time needed. We help our employees and candidates find rewarding jobs befitting their individual situations and career plans.
We are a company with a strong ethical culture which engenders professional and personal respect towards all employees, and where leadership approaches always aim to embrace all-inclusiveness throughout the company. Our working culture is underpinned by our robust values: People and Partnership, Quality, Trust and Integrity. They guide our everyday actions across all hierarchy levels. Living our values helps us to achieve a balance between the high expectations and demands of our work deliverables, whilst always maintaining the human touch.
We care about relationships, building individual connections and trust in our people. This is how we operate as a successful professional organisation and we feel this is vital to building and maintaining a workplace where employees are personally engaged and invested in the overall success in our company.  Equally important is that CTC invests in the overall success of each employee – cultivating and growing together `mutually`.
If you like the idea of becoming a vital part of a winning, well-respected team, please feel free to contact us at: linda.bratke@ctcresourcing.com
By submitting this form, you confirm that you have taken note of our privacy policy and that you agree to the storage of your entered data.