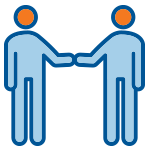 Finding a new role that plays to your strengths isn't always easy, and finding a role that brings out the best in you can be even more difficult. At CTC we use our extensive know-how of recruiting in life sciences to help our candidates with just that, finding a match to your hard skills and career aspirations. To find a permanent position with CTC, please visit our job feed or contact us.
If you're looking for a new position in the life sciences industry, start with CTC.  With a central location in the heart of Basel and over 20 years' experience within the industry, we have access to the Top Pharma and Biotech companies, which gives us an insider's perspective – and a very wide network of industry contacts. CTC's experienced recruitment consultants are always well informed regarding new trends and positions in the market.
When we begin working with you, we will carry out an in-depth interview with you in order to match your skills, experience, personality and aspirations to our clients' requirements.
Throughout the process, we keep you updated. As a result of our quality-focussed approach, our candidates enjoy higher success rates at interview due to the fact they are informed and prepared prior to their meeting with potential employers.
As a CTC candidate you will enjoy:
CV advice and assistance
Support with salary negotiations
CTC facilitation until final contract signature
Provision of information on CTC training courses into the future
Invitation to networking and key CTC social events
We welcome all applications. We interview promising and experienced candidates in order to keep our database current with quality candidates. This enables us to fill some vacancies even before they are posted on our website.
Your application will be treated in the strictest confidence, and your CV is only sent to clients once the position has been discussed with you and your approval has been obtained.
We will be happy to receive your CV even if the position you are looking for is not currently listed on our vacancies web page.
By submitting this form, you confirm that you have taken note of our privacy policy and that you agree to the storage of your entered data.