Effective Vendor Management and Oversight – date to be confirmed
Basel,
December 9, 2020 @ 9:00 am

-

August 17, 2021 @ 5:00 pm

CET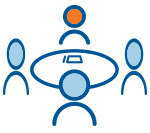 This one-day course is designed for those working/interacting with vendors to deliver your clinical trials. How do you ensure you manage them to optimise your clinical trial delivery? What is required for compliant vendor oversight? What could put you at risk of inspection findings? Do you require a governance system with your vendors? How should you implement this for your outsourcing model and how will it add value? What is the best approach to maintain healthy business relationships when outsourcing? How do you drive performance transparency through use of metrics?
Who should attend?
Anyone involved in or those seeking a better understanding of vendor management and vendor oversight: Clinical Development Staff, including those working in Clinical Outsourcing, Contracts and Outsourcing, Clinical Quality Assurance, Clinical Quality Control, Clinical Operations, Vendor Management, Global QA/Compliance and Regulatory Affairs.
Course Objectives
With this course you will:
• Understand the key components of vendor management and vendor oversight
• Learn about governance and how to implement an effective structure
• Discuss risk management approaches when outsourcing your clinical trials
• Describe different aspects of vendor oversight including third parties, local and emerging economies
• Implement metrics to drive performance and transparent vendor oversight
• Discuss the evidence a sponsor requires to convince a regulator you maintain control and oversight
Topics
• What is Vendor Management and what is Vendor Oversight
• The many Aspects of Vendor Oversight
• What is Governance and how to Implement an Effective Government Structure
• Risk Management when Outsourcing
• Maintaining Healthy Business Relationships to Support Effective Management and Oversight
• Regulatory Inspections when Outsourcing
Course Leader
Julianne Hull, with 30 years' experience in clinical development, Julianne has successfully held global leadership roles in vendor management/outsourcing clinical data management and clinical operations for several large and medium pharmaceutical companies (Pfizer, Wyeth, Marion Merrell Dow, Biogen Idec and Ipsen). Julianne is now CEO of WenStar Enterprises, a company she formed to provide consultancy to the pharmaceutical industry in the areas of clinical outsourcing and operations.
Learning Methodology
Activities are core part of this course to help you to test and confirm you have met the learning objectives for each session.
Date:
to be confirmed
Time:
09.00 – 17.00 hrs
Venue:
CTC office
Münchensteinerstrasse 41
CH-4052 Basel
Directions:
Tram 15
Tram stop «Grosspeterstrasse»
Fee:
Registration Fee: CHF 950.00 + 7.7% VAT
15 % reduction for members of SwAPP and SBA
Special fees for CTC employees
The fee includes course documentation, refreshments, lunch and a course participation certificate
Payment: After registration, you will receive confirmation and an invoice with instructions on how to complete the bank transfer. Full prepayment is needed prior to the course.
Cancellation Policy:
• Cancellations received more than 14 days before course: 100% refund less bank charges & cancellation fee of CHF 50.00
• Cancellations received 7-14 days before the course: 50% refund
• Cancellations received 7 days before the course: no refund
In case of no show, no refund will be made.
Document:
If you have NOT received an official confirmation 7 days after registering, please call CTC at 0041 61 695 88 66 or send an email to info@ctcresourcing.com.
THANK YOU!