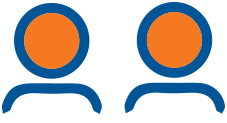 In-house, we have over 50 years of combined experience at engaging and providing talent for our clients. For much of that time we have been an exclusive or preferred supplier to our Life Sciences industry partners meaning that from a recruitment perspective we know what works, and what doesn't.
Some of the ways we work with our clients include:
Placing contractors
Contract to permanent
Permanent placements
Freelancers
Executive interims/Consultants
Mandated search/Market mapping assignments
Team build-outs (local and Europe wide)
When we work with a client, we take a comprehensive brief regarding the candidate you are looking for as well as other key information regarding the context of the hire. Understanding our client's company and team culture is hugely important for us to find an individual for whom the job is an ideal match. After sharing our knowledge of the market with you, we discuss the best strategy moving forward with the aim of ensuring maximum engagement and efficiency of the process.
As part of our service, we provide:
Full screening interview of all relevant applicants for a position allowing us to assess hard and soft skills as well as an understanding of the ideal cultural environment suited to a candidate.
A full career summary and candidate profile with the candidate's CV.
Presentation of a number of highly relevant candidates in line with the detail outlined in the initial client briefing call.
Check of qualifications and references (interview of referees where appropriate and relevant).
Ensuring candidates are prepared before the interview.
Clear and constant communication throughout the entire recruitment process.
Management and delivery of job offer including mediating discussions.
Our process has allowed us to provide candidates with the correct experience and personality to assimilate into your team and organisation seamlessly.
Our objective is to deliver to our clients, talented industry professionals who add value from their first day.
If you would like to know more about our services or if we can assist you in identifying a specific resource, we would be delighted to hear from you.
By submitting this form, you confirm that you have taken note of our privacy policy and that you agree to the storage of your entered data.