Project Management for Clinical Trials
Basel,
October 15 @ 9:00 am

-

October 16 @ 4:00 pm

CEST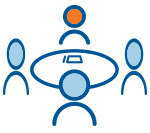 Who should attend?
This leading Project Management and Clinical Trial Management course is specifically designed for the Clinical Trials Professionals including Clinical Trial Coordinators who want to develop effective clinical trial management and clinical trial project management skills.
Course Objectives
The aim of this workshop is to ensure you gain a comprehensive understanding of the tools and techniques of project management and clinical trial management and how they can be applied straight away to your own clinical research projects in the workplace.
The detailed aims are to:
• Understand technical project management tools and techniques and apply these to your work
• Examine the competencies appropriate for an effective project manager
• Identify the project critical path and use this information to assist in planning decisions
• Provide a better understanding of the essential personal skills which are necessary to achieve project objectives
Course Topics
• What is a Project / What is Project Management in Clinical Research
• Setting Clear Objectives and Defining the Scope of your Clinical Research Projects
• Developing a Detailed Project Plan to Manage your Clinical Trial Projects
• Patient/Subject recruitment and retention
• Project Implementation and Control for your Clinical Research Projects
• Project Review/Close Out and Learning for Clinical Research Projects
• Identifying the Core Competencies of Effective Clinical Trial Project Managers
• The Importance of Motivation to Achieving Project Milestones
• Developing the Pharma Project Team to Achieve the Best Result
• Effective Communication and Cross-Cultural Communication in Clinical Trial Projects
• Effective Clinical Trial Project Time Management
• Personal Action Planning
Course Leader
Dr Laura Brown, PhD, BSc (Biochemistry), BSc (Psychology), MBA, Diploma in Clinical Sciences is a Pharmaceutical Training and Project Management Consultant. She is also Director of the MSc Regulatory Affairs, TOPRA and Course Director, MSc Clinical Research, School of Pharmacy, at the University of Cardiff, and is a visiting lecturer at Cranfield School of Management.
Laura has more than 25 years' experience of managing projects in Clinical Research and has worked with several companies including GSK, Hoechst Marion Roussel, and Good Clinical Research Practices. She has worked as a Life Cycle Project Manager, Clinical Research Project Manager, Auditor, and as a Head of Training.
She has presented and facilitated numerous courses on clinical research project management to enable pharmaceutical companies and service providers to the pharmaceutical industry to run clinical research projects more successfully.
Laura has particular expertise in project management in clinical research and has completed an MBA, with specialisation in project management. She is also co-author of several books including Project Management for the Pharmaceutical Industry.
Learning Methodology
Interactive sessions with a mix of lecture, group exercises and open discussions.
Continuing Education

This course is accredited by the Swiss Association of Pharmaceutical Professionals (SwAPP) and the Swiss Society for Pharmaceutical Medicine (SGPM).
Fee:
Early Bird Fee: CHF 1'575.00 + 7.7% VAT (valid until: 20.08.2020)
Regular Fee: CHF 1'750.00 + 7.7% VAT (valid after: 20.08.2020)
15 % reduction for members of SwAPP and SBA
Special fees for CTC employees
The fee includes course documentation, refreshments, lunch and a course participation certificate.
Payment: After registration you will receive confirmation and an invoice with instructions on how to complete the bank transfer. Full prepayment is needed prior to the course.
Cancellation Policy:
• Cancellations received more than 14 days before course: 100% refund less bank charges & cancellation fee of CHF 50.00
• Cancellations received 7-14 days before the course: 50% refund
• Cancellations received 7 days before the course: no refund
In case of no show, no refund will be made.
Document:
If you have NOT received an official confirmation 7 days after registering, please call CTC at 0041 61 695 88 66 or send an email to info@ctcresourcing.com.
THANK YOU!